n+m: Journal Covers
Successful information design illuminates content and data in a manner which makes the complicated more easily understood. Solutions are as varied as the content upon which the diagrams are built – and in the process, provocative and compelling abstractions are often created. A recently discovered (although by no means new) series of magazine covers for the journal n+m: Naturwissenschaft und Medizin (Natural Science and Medicine), published by C.F. Boehringer & Soehne, [1964-1971] illustrates this principle. Individually and as a set, the covers are notable for their engaging, colorful simplicity. Just enough information is illustrated to pique one's curiosity and prompt one to engage the fuller article.
A little research reveals that these gems were created by German graphic designer and typographer Erwin Poell on behalf of the Boehringer Pharmaceutical company (later Boehringer-Ingelheim). Poell's work spanned many mediums: book and textbook design, postage stamps for the Deutsche Bundespost, shares and securities certificates and typefaces. If you are interested in learning more about Poell a monograph of his work was published in 1993 titled Erwin Poell, Entwürfe für den Alltag · Typografie, Grafik-Design, Art Direction. Werkmonografie 1955–1992.
Because of their modern synthesis of abstraction and information, the n+m covers continue to serve as an inspiration – particularly in the capacity of illustration, when aligned with content, to be very powerful. Nearly the full series from 1964 to 1971 can be found online, in fact reproductions can be purchased as posters. Below is a collection assembled with as many examples we could find and hope to add to the collection as new examples are discovered.
June 6, 2019: We added three additional covers today, Issues 11, 21 and 23. 
February 21, 2020: We added Issues 3, 15 and 35
May 14, 2020: We were able to add Issues 17, 20, 22, 26.  
May 06, 2021: Added Issue 16
July 5, 2021: Added Bandnummer 9! The collection is complete!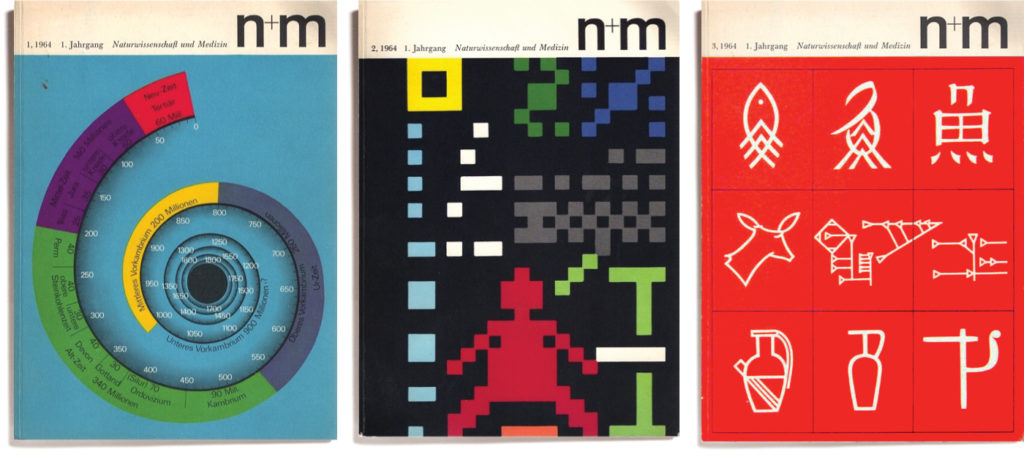 If you have a project which you believe illustration and/or information graphics would add depth or clarity to the presentation please contact us, we would be happy to discuss.